The Best Air Filters for Your Home
Find the right HVAC air filter for your home with Yoor Air premium filters that remove bacteria, allergens, pollutants, pet dander, and other harmful airborne particles.
Features
Worry Less. Breathe Easier. Filter More.
Our EPA approved antimicrobial system is a key component in improving indoor air quality (IAQ) by trapping and controlling the growth of microbials within the filter.
Microorganisms are instantly destroyed when they come in contact with our patented filter media.
Reduce Mold & Mildew

Water should stay in the shower, not in your filter. Our antimicrobial filters are tougher than those cardboard-framed filters that hold moisture. Yoor Air filters always stay dry.
Long Lasting Performance

An independent study showed Yoor Air 3-Ply HVAC Filters outlive a high-capacity pleated filter by 75%. It means you achieve nearly 2x the service life using a Yoor Air filter compared to other high capacity filters.
Tight Fit

The Yoor Air self-sealing gasket design prevents dirty air, particles and bacteria from bypassing around your filter. Catch all the pollutants and enjoy higher quality air.
Fits All Depths

Our filters fit in 1", 2", 4", 5", and even 6" track depths. Yes, it seems funny, but it 100% works!
The Yoor Air Difference
Does your filter wiggle when installed? That means it's letting dust blow right around it! Yoor Air filters fit tight, trapping ALL the dust, microbes, dander before they invade your home.
See why we are different than traditional pleated air filters.
Why We Are Different
Which Filter is Right for You?
Need a filter to trap common household airborne pollutants? Or are you looking to rid smelly pet odors and dander from your home? Compare our filters below to find the right filter for you!
Still Not Sure? Let Us Help You Decide!
Take our filter guide questionnaire to get a personalized filter recommendation that is perfect for your home based on your lifestyle.
Learn More
Better for You
Our antimicrobial system is a key component in improving indoor air quality (IAQ). Airborne microorganisms are chemically destroyed and reduced by up to 86.5% on the 1st pass and continues to increase in effectiveness with each additional pass.
Catch all the pollutants and enjoy higher quality air.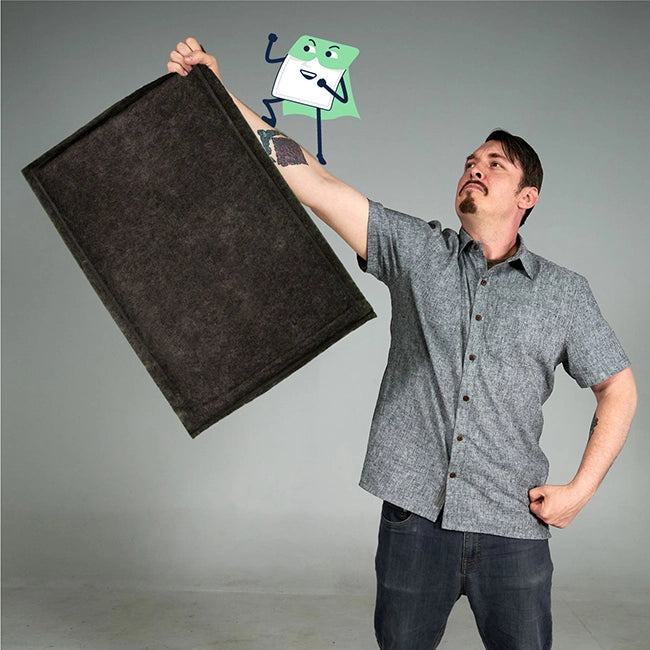 Better for Your Home
Prevent dirty air from bypassing the filter. Equates to cleaner indoor air, extended furnace life and reduced repairs. You'll see a noticeable decrease in the amount of dust on your glass coffee table!
Better for the Planet
We aim to reduce the waste generated at all levels – from manufacturing, to packaging, to your home. Yoor Air filters contain about 29% post-consumer recycled content.
Real Customer Reviews
Wow, we're impressed!
We've been using the new filter for 2 weeks, and noticed a major decrease in the amount of dust on floors and furniture within the first 2 days. Very glad we tried it, definitely worth the price!
Amazing Airflow
My ac works so much better without the restrictive merv 8-13 cardboard woven pleted garbage. I live in south Florida and it's made a 100 dollar a month difference in my energy bill and I have no allergies like I'd get from a cheap fiberglass non restrictive one.
Clean Air & Auto Delivery
These filters are GREAT and they are easy to pull out and replace. Tight seal every time too! Easy to bag and fold up for disposal too. As expected, no little dust bunnies around the house anymore!! Keep them coming on a regular basis.
Breathe Again
This filter is A-mazing. We have cats and that means hair and lots of it. Before we installed filter we vacuumed and wiped walls to give this filter a fighting chance. All I can say is WOW after using this next level filter I am absolutely 💯 🤪 percent sold on it.
A Smoke Free Home
I got this over the summer and it was a tremendous help! I live in Salt Lake City and the fire season gets pretty bad out here. Smoke everywhere. With this filter, my home didn't smell like smoke and was very pleasant to be at home.